Event Details
BUILDING A SERVICE DESK BASED ON CUSTOMER CARE
By Don Varela and Navy Federal Credit Union and Mike Weber of NISC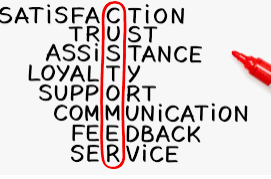 Whether your service desk is working with internal or external customers, how you take care of them is just as important as what you actually do for them. A service desk focused on skills, but not focused on customer service is one that is woefully falling short on the needs of business communities. Come join Don and Mike for a 2 part presentation:
Don Varela, Manager IT Services and Resources
How to build a help desk that champions your culture
Summary:
Navy Federal Credit Union has improved its engagement score dramatically by hiring the right people, creating an environment of collaboration and appreciation, and by displaying absolute interest into each individuals professional and personal aspirations that is aligned with the organization's mission. In this session, learn how to build a roster of great candidates (hint: "Don't build a team full of Michael Jordans"), tactics for keeping the team engaged, and tips for promoting collaboration and appreciation.

Bio:
20 years in financial services. Served in leadership capacities in IT, marketing, PR, lending, and customer service, with deep exposure in digital, strategic management, and team development. Served in 13 different roles within the organization spanning services in retail banking, training, collections, corporate communications, technical support, and mortgage lending. Currently is one of the resource managers of the credit union's IT Service Desk, supporting over 20,000 employees worldwide.

Mike Weber, Senior Manager Member Success, National Information Solutions Cooperative (NISC)
Creating a Culture of Customer Care: The New Support Model (case study)
Summary:
Customer care is much different than support: support solves a customer's problem; care builds a relationship, and a loyal customer than can differentiate your company from your competition. For internal support centers, a culture of customer care can build strong employee relationships across divisions.
In this case study, learn about the components that drive a culture of customer care, including a cooperative business model and the 4 Cs of communication. Discover how NISC has created a culture where coworkers support each, customers see us work as a team, and a job well-done is celebrated!
Bio:
Mike Weber, Senior Manager of Member Success at National Information Solutions Cooperative (NISC), leads a customer support center of 200 professionals that provide customer care for enterprise software solutions. NISC support centers had the good fortunate of earning an HDI CSAT Elite Top 50 award, which recognized top-ranked support centers in customer satisfaction, for five years in a row. Mike has been with NISC for 24 years, beginning his career in front-line support and eventually into a variety of leadership roles.
NISC is an information technology company that develops and supports software and hardware solutions for our Member-Owners who are primarily utility cooperatives and telecommunications companies across the nation. NISC is an industry leader providing advanced, integrated IT solutions for consumer and subscriber billing, accounting, engineering & operations, as well as many other leading-edge IT solutions.
Date: March 18,2021
Time: 11:30-1:00 PM
Conference Info: Provided 2 days before the event in e-mail to registered attendees.
Note: If you are having trouble registering as a Member, please log out and register as a guest. We are working with our host to resolve the issue.