HDI North Coast has invited us to join them for their September Event, please see details below and Register at: HDI North Coast
Supporting the Work from Home Enterprise:
3 Secrets of the Successful Service Desk in 2020
A virtual meeting presented by: Bhavin Shah, CEO of Moveworks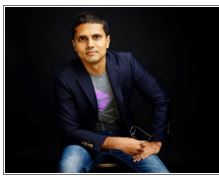 Before we begin, let us sympathize: IT support is harder today than ever before.
Remote employees are relying on dozens of software tools and collaboration apps to stay productive, generating endless tech issues that stop the show until resolved. And without the ability to get help at the office, most can't find the right form, portal, or knowledge article themselves. It all amounts to the average tech issue taking three days to fix—the bane of a fast-paced business.
But a growing movement of companies, including Equinix, Autodesk, and Western Digital, have become more productive during the pandemic by resolving IT issues in seconds, not days. Their secrets? As Moveworks CEO Bhavin Shah will demonstrate, these companies are using artificial intelligence:
To provide real-time tech support for remote employees, straight on enterprise messaging tools like Microsoft Teams and Slack

To autonomously resolve IT tickets via deep integrations with enterprise systems, no matter what employees need

To understand employees' IT issues that they describe in natural conversation, so the help desk need not intervene.
Bhavin Shah has over 18 years of experience building companies and assembling high performing teams. Prior to Moveworks, Bhavin founded Refresh.io, a leader in mobile productivity that was acquired by LinkedIn in 2015. Through his founding of Gazillion Entertainment and his work in product and business development at LeapFrog, he has taken companies from inception to scale and from private to public. Bhavin has degrees from Stanford University and UC San Diego in both Computer Science and Design.
Date: Thursday, September 17, 2020
Time: 2:30-4:00PM
Cost: Free for members and non-members
Please Register on the HDI North Coast page linked above.